Info on how to advertise at Slick Ricks Porn Reviews


We have a new and exciting advertising plan that will cater to everyone willing to participate.

"Name Your Own Price" For advertising.

Below are the 4 advertising options we are currently offering. We are limiting this offer to the first 750 individuals that may be interested, we do not want to over saturate the web site.



Ad campaign Option 1:
Skyscraper 120x600 Banners:
As you can see on the right side of the screen in the "Partner Links" section you will see the "ImLive" Banner 120x600. You can advertise your banners in our "Partner Links" section on over 70 category/niche pages.
(Look at right side of screen for the example.)
This will appear on the right side of the screen in the "Partner Links" section on whatever category you choose.




Ad campaign Option 2:
486x60 and 486x80 banners:
If you choose this option your banner will be visible at the bottom of the category/niche page that best fits the sponsor site you are selling. There are approximately 70 category pages to choose from.
(See Screen cap)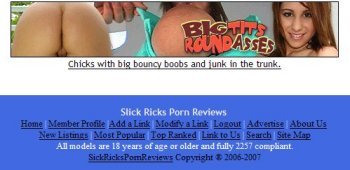 Click For Full Size
Ad campaign Option 3:
This is a new feature with our site. We will feature your news clip on the top of our main page In the "Site News" section. Just supply us with the text content and links. (Limited to 5 links max to your sponsor)....(Limit 750 characters including spaces, or about 125 words.) We will only be selling "Site News" clips weekly, bi-monthly, or month. And this will be featured on our main page, where traffic is in high volume. This space is very valuable.
(See Screen cap)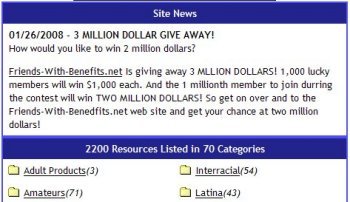 Click For Full Size
Ad campaign Option 4:
This is also a new feature. We will list your web site to whatever niche/category you choose. And it will be listed on the very top of the category page. (Even before our own reviewed sites that we have listed.) And it will be highlighted in red to draw attention to the surfers. We will only be selling 2 to 3 sponsor sections per category per page each month. So the space is very valuable.
(See Screen cap)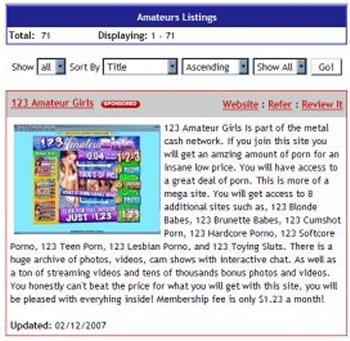 Click For Full Size
Please note: Banners that are used must be in the following format of (jpg or gif). No flash banners accepted.
We will take a screen capture of your site and list it in the sponsored section (For those that are interested in purchasing this type of advertising.) You can always supply your own screen cap so you can get a full screen image. Image properties of site screen caps must not exceed (Dimensions) Width: 200px Height: 150px.

For Ad campaign Option 1 and 2: The banners will be in rotation with other banners. We will not try hard not to exceed more then 5 (120x600 skyscraper banners) per niche per page for the "Partner Links" section. And we will also try not to exceed more then 5 (486x60 486x80) banners on the bottom of each niche category page.

Also we will be hosting the banners and screen capture images, for those that may be asking.
If you are interested in adverting please feel free to emails us using the email address (below).

Lastly and most importantly, we are under no obligation to honor any bids that we may feel to low.
If the "Name Your Own Price." is something you are interested in, or if you have any questions feel free to email us.

Thank you for your time,
If you are interested please feel free to contact SlickRick for more info:
SlickRick [AT] slickrickspornreviews.com
Our ISP is hinky at times so please CC your email to this address (below) as well
SlickRicksPornReviews [AT] gmail.com



We accept Epassporte and Paypal. And advertiser must pay the processing fees.
Epassporte fees: $9.00
Paypal fees: 2.9% + .30 (30 cents)
Please note all prices are to be made in US Currency. Payments must be made before ad campaign will run.